Foreword
At the start of Heijmans' hundredth and first year of existence, I would like to express my appreciation to all my colleagues. Their adaptability enabled us to respond effectively and perform well as an organisation in a highly volatile world over the past year. We started the year with Covid-19 still clearly present in our society, but all too soon, all we were focusing on was the war in Ukraine. Apart from the human suffering for the people there, the war has had a major economic impact. A higher cost of living and worry about the security of energy supplies once again led to enormous uncertainty among a large section of the population, obviously including our own people. Given all of this, I consider our good results a great compliment to all our employees.
Controlled entrepreneurship
In 2022, we had to deal with an unprecedented accumulation of external influences, such as the government's rental policies, rising mortgage rates and, of course, the nitrogen emissions issue. Despite this, we performed well and can be satisfied with the results. Our agility and our ability to anticipate are enormous. One of the things that made this clear was the Council of State's ruling in the Porthos case, which voided the construction exemption. But because we had already commissioned Aerius calculations on our own initiative, we will be able to limit delays in the permit process for our projects.
Our focus on margin over volume and our much-improved risk management continue to pay off. The company is as solid as a rock. Armed with our entrepreneurial spirit and innovative strength, we are constantly on the move and working purposefully to create a healthy living environment.
Safety
Safety is our first priority and an absolute prerequisite. Yet in March 2022, we were shocked by a fatal accident on the N3 in Dordrecht. During a subcontractor's pile-driving work on a Heijmans project, one of the subcontractor's employees was killed. Our sincere condolences go out to the relatives of the victim.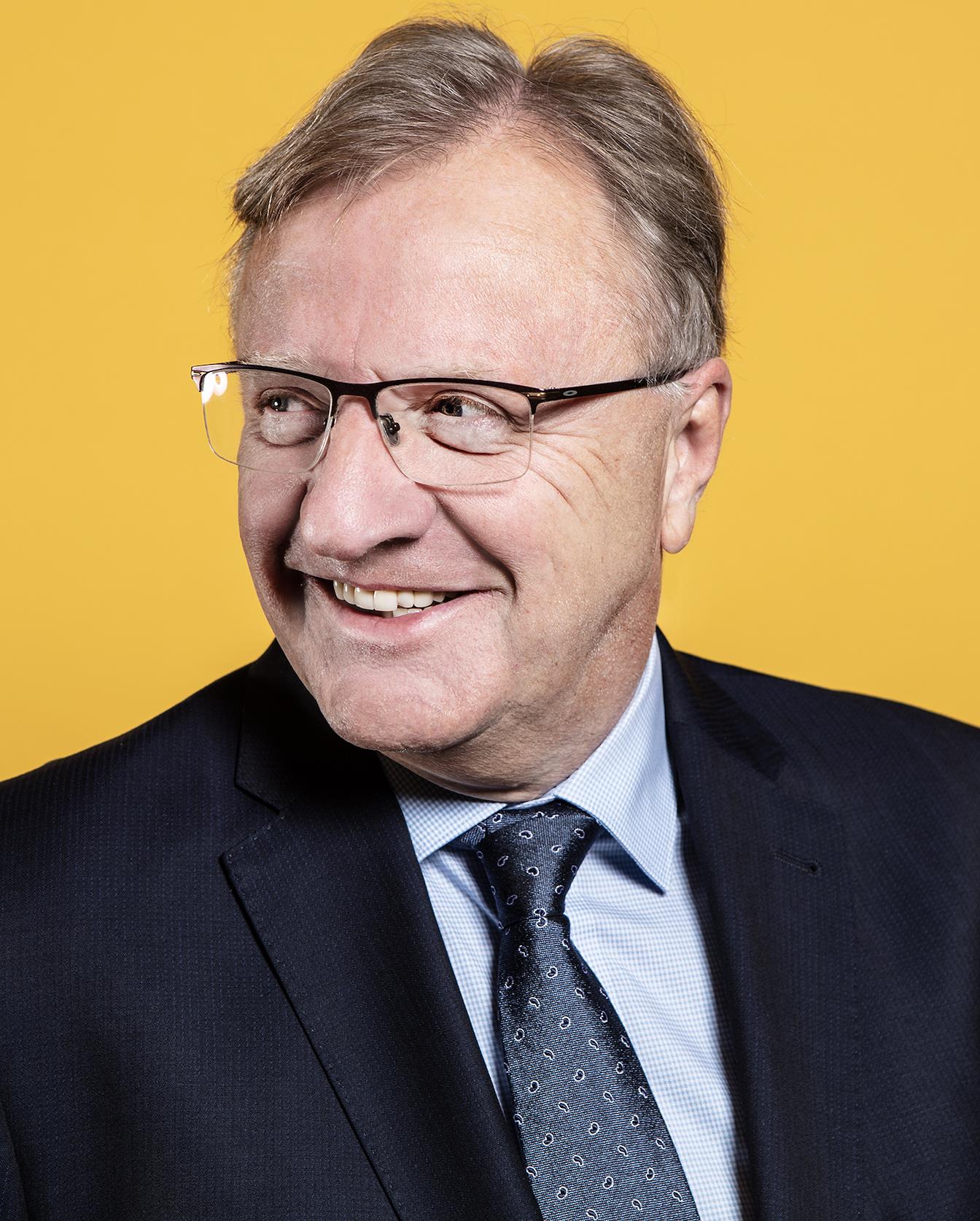 Heijmans is well positioned for the future and is looking to the next hundred years with confidence
We continue to devote our undivided attention to the creation of a proactive safety culture. Heijmans Infra once again certified on step 4 of the Safety Ladder. Residential building, Non-residential building and Property development have all set themselves the target of level 4 certification in 2023. On top of this this, Heijmans has initiated various ongoing activities to improve overall safety behaviour, including the long-term Leaders in Safety training programme. Last year saw another 1,300 of our colleagues participate in this programme. Our virtual reality training courses have also been successful, with the 1,000th training course being held in November.
Although the number of accident reports rose to 71 from 66, the IF figure (duration of absence in relation to the number of hours worked) fell significantly: to 2.7 from 3.8. This shows that accidents are being reported more frequently, an important part of a proactive safety culture. Thanks to the improved reporting culture within the organisation, we are constantly improving our ability to anticipate unsafe situations. This is why we take every report seriously. In addition, we continue to call on everyone, inside and outside Heijmans, to be alert and to call each other out on unsafe behaviour and unsafe situations. Or, as our agreement goes: 'Make yourself heard, never look away, invite others and keep improving!'
Being a good employer
Covid-19 and the war in Ukraine have left us living in uncertain times. Rising energy, fuel and food prices are having a major impact on household finances, including those of our staff. This is creating extra mental pressure and stress about the affordability of daily life, leading to higher absenteeism among a number of our employees. So I was pleased that we were able to give two bonuses of € 250 net and € 500 gross to our colleagues who needed this the most. We continue to focus on the physical and mental health of our people, and that includes our continuous focus on prevention and vitality.
This year, employee participation at Heijmans celebrates its 50th anniversary. The Works Council has been embedded in the organisation for fifty years and acts as a constructive and critical partner to the Executive Board. As an extension of our employees and the eyes and ears of the shop floor, the Works Council acts as an important indicator of what is going on in the company. We attach enormous value to good interaction, because this enables the Works Council to make a significant contribution to Heijmans' strength.
Sustainability
Sustainability is now an integral part of our work and clear targets on energy, materials and space give us direction. In 2022, we reduced our CO₂ emissions by 7%. The targets we have set encourage us to keep doing better and to continue to reduce our emissions, both directly and indirectly. This is why we continue to invest heavily in measures that reduce our CO₂ emissions, including the purchase of emission-free equipment. We have also taken major steps in the field of materials and circularity and high-quality reuse are now playing an increasingly significant role in our projects. From 2023, we will produce our own energy-neutral timber-frame houses at our factory in Heerenveen, which marks another milestone for us. This is how we are taking our responsibility: by doing. We also work with a large number of partners in knowledge institutions and the business community, along with various nature conservation organisations, so we can drive sustainability measures and innovations elsewhere wherever possible.
Our sustainability efforts are being recognised and acknowledged. In July 2022, the Dutch Association of Investors for Sustainable Development (VBDO) named Heijmans one of the leaders on the promotion of biodiversity front. In November, we were honoured to receive the SDG award. Cobouw and PwC present this incentive award to the most sustainable construction company in order to increase the attention devoted to sustainability throughout the sector. It goes without saying that we are very proud of this award.
Making things smarter through digitalisation
The nitrogen emissions issue, the scarcity of space, materials and people and the sustainability challenge are making our task more complex every year. Our response to this complexity is to streamline our work and our processes. We are constantly increasing our use of digital construction methods, intelligent and data-driven maintenance and a growing number of digital tools. These tools enable us to build more productively and impactfully, while the use of digital tools also makes the work for our employees outside safer and more efficient.
We also deploy digital and smart solutions for our clients. From sensors on bridges and tunnels to sensors in homes and offices. For instance, our data-driven Beyond Eyes service supports the smart use and management of (office) buildings. In 2022, we won a major tender from ProRail. This is a great contract to install 4,500 workplace and space sensors at seven locations, including the company's iconic 'De Inktpot' headquarters in Utrecht, enabling ProRail to control and optimise the building's indoor climate.
Housing market
The housing market continued to face unrelenting pressure in 2022. Over the past few years, market prices rose to unprecedented levels, which put constant pressure on the affordability of housing for consumers. Due to the limited availability of materials and people, plus high energy costs combined with higher mortgage interest rates, housing sales declined sharply in the second half of 2022. Rapidly rising mortgage rates and higher energy costs in particular had a major impact on borrowing capacity and consumer confidence. All things considered, what we are dealing with here is a normalisation of mortgage rates after years of extremely low interest rates. This cooling of the housing market is necessary. Construction costs are expected to normalise in the coming years, which could also help make homes more affordable for consumers.
Fundamentally, we expect demand for homes to remain undiminished. Which is why we are confident about the future of the housing market. However, we do foresee a shift from inner-city to suburban developments in our portfolio in the coming years. To keep (new-build) homes affordable in the future, we remain committed to standardisation, industrialisation and efficient production processes. Thanks to our various smart and flexible housing concepts, we will help to make homes affordable, sustainable and energy-efficient.
Bold statements
In 2022, we once again focused on achieving the targets we set for 2023. For Heijmans, its bold statements highlight the most important themes for the direction we want to move in and areas in which we want to bring about real change, categorised along the axes of our strategy: better, smarter and more sustainable. This is why we deliberately made these targets ambitious. Our goal was to achieve 100% movement on all bold statements and fully achieve half of them. The targets set at the time expire in 2023 and our realisation of these targets up to the end of 2022 is something of a mixed bag.
Outlook
It is difficult to make concrete statements about the year ahead, partly due to ongoing macroeconomic volatility. Nevertheless, the current outlook inspires confidence. Thanks to its healthy diversification and volume, the order book for 2023 is at a robust level. We expect total revenues to increase slightly, despite an anticipated decline at Property development due to lower residential sales. This is because we expect this decline to be more than compensated by the rebound in volume at Infra to a level well above € 700 million, while we are also anticipating growth at Building & Technology, due in particular to the healthy order intake at Non-residential. The quality of the order book remains strong, putting us in good starting position for the year ahead. As a result, we expect all the business areas to continue to operate within our stated strategic underlying EBITDA ranges, resulting in a margin of 4% - 6% for our construction businesses and a margin of 6% - 8% for Property development in 2023. We therefore reiterate the outlook we gave on the publication of our third-quarter results to the effect that Heijmans expects the underlying EBITDA for the group as a whole to be at a similar level as in 2022 (excluding the Wintrack II provision). That said, I would like to express the hope that the world will move into calmer waters. In any case, I am incredibly proud of this organisation and look forward to celebrating 100 years of Heijmans with all our people. As a company, Heijmans is well positioned for the future and we are looking forward to the next hundred years with confidence.

Ton Hillen
Chairman of the Heijmans N.V. Executive Board
17 February 2023